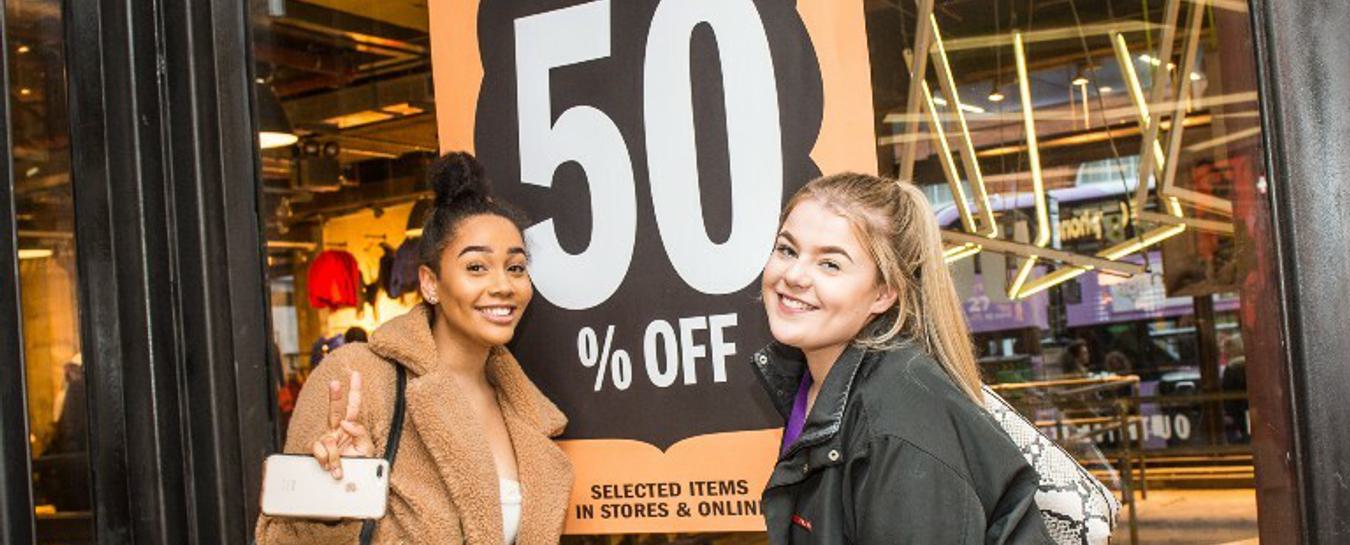 T&Cs
Retailer
Discount
Terms and Conditions
Argento
10% on all Argento products
Excludes Nomination, Olivia Burton, gift vouchers and sale items
Boost Juice Bars
15% Off Via Unidays / 20% with a registered boost account
Only redeemable with a valid Student card / Unidays App
Boux Avenue
20% off
Discount on all full priced items.
Cafe Zest, House of Fraser
20% off the total bill
Valid upon production of NUS
Chopstix
Students can enjoy 10% off at Chopstix, so put that pen down and take a study break with us!
Valid Student Card/ UniDays/ StudentBeans account when redeeming offer
Claires Accessories
15% off all full priced items excluding piercings
Excludes piercings.. and accepting any student card with an expiry date
Damaged society
10% off
Can't use on other offers or sale items
Ed's Easy Diner
25% off total bill
25% off total bill. Valid all day, every day. Must present a valid student ID to claim the discount. Valid for dine in and takeaway only. Not valid on delivery and click & collect. Cannot be used in conjunction with any other offer, discount or promotion. Ed's reserves the rights to remove this offer at any time.
Krispy Kreme
10% OFF PURCHASE
Valid photo student ID required on purchase
Luvyababes
10% off all full priced items excluding printing and balloons
Exclude printing or balloons in the discount proof of I'd NUS card / uni days
Morphe
10% off all full priced items that are morphe core
Excludes any third party product, and proof of student id - NUS card/student bean/uni-days
O2
20% off selected accessories and handsets
Ask store for further details - proof of student ID
Office
10% Off in store
Only redeemable with a valid student card
Ori Caffe, John Lewis
20% off the total bill
Valid upon proof of NUS
Rebel Clothing
10% Off Clothing
T&C Apply in store
River Island
10% off all the time
Must show students ID.
Require an email address to send receipt to and sign up to newsletter.
Shake Lab
20% Off Shakes
With valid Student ID
Sostrene Grene
10% off (excluding furniture items)
Available for 1 month
Suit Direct
10% off
Supercuts
20% off nails
Proof of I'd required
Superdrug
10% off everything
Valid UniDays/Student Beans or NUS Extra ID (Excluding Baby Milk, Vitamins, Stamps & Prescriptions).
Superdry
10% Off
Full Price Only!
The Fragrance Shop
10% Off
Offer can only be redeemed at The Fragrance Shop, Nottingham (Victoria Shopping Centre). Offer cannot be used against membership, subscriptions, scentaddict, gift cards and cannot be used in conjunction with any other promotional offers. To redeem the offer, you show a Valid Student ID at the till point. No cash alternative will be offered. Damaged, defaced or photocopies will not be accepted. Promoter has the right to refuse invalid offer codes.
The Perfume Shop
10% off
Cannot be used on VIP deals of the week, gift cards.
The Treat Kitchen
Any hot drink for £1
Decorated Chocolate Plaques with message for £5
Must show valid student ID to redeem
The Works
10% off selected items
Ask store for more details on offer and only accepting NUS card
Trespass
10 percent off all items.
None.
Urban Outfitters
10% Ongoing
NUS student card or uni days Id
Vision Express
20% discount on glasses
Must be a complete pair of glasses
Valid student ID
Zero Latency
50% Off with code NOTTSBID50
NOTTSBID50 - Book online at www.meetspacevr.co.uk
Offer valid Mon-Fri cannot be combined with other offers. Valid for all experiences.